1- Introduction :
1.- Introduction :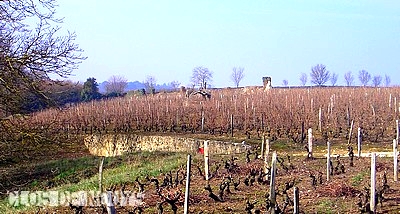 Le CLOS de NOUYS a une équipe technique de 4 personnes à temps plein.
Dans cette équipe, 3 personnes s'occupent de la vigne à 100% de leur activité pour une surface de près de 25 ha et une densité de plantation de 6 600 pieds/ha.
Clos de Nouys has a full time four person technical team.
Three of them work exclusively on the vines, of which there are 6,600 in each of the 24 hectares.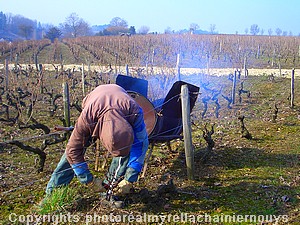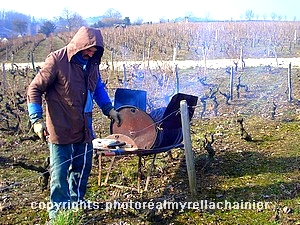 La taille a une signification particulière en Touraine puisqu'elle est liée à la légende de St Martin.
Vine pruning has a special significance in Touraine because it is linked to the legend of St. Martin.
L'histoire veut que ce soit son âne qui a inventé la taille en broutant une parcelle de vignes. L'expérience a donné un raisin plus gros, plus sucré, moins acide.
According to the story, his donkey one day decided to nibble on the vine branches.  In the result the grapes from that tree were larger, sweeter and less acidy.
Petit rappel climatologique :
On sort d'un hiver en Touraine,  notamment sur Vouvray, très peu pluvieux, températures négatives assez prolongées en décembre 05.
Les précipitations de mi-février, début mars 06 n'ont pas suffit a renouveler les stocks hydriques des sols.
Meteorological feedback :
This year's winter in Touraine, particularly in Vouvray, was very wet, with temperatures below zero in December of 2005.
Mid February precipitations, as well as those in the first weeks of March 2006 were insufficient to renew the necessary moistures in the soils.
2- Type de taille :
Nous pratiquons traditionnellement une taille courte en éventail avec 4 à 5 bras porteurs. Nous laissons 8 à 10 yeux par ceps.
2
.- Type of pruning
:
It is short, in a fan form, with 4 or 5 carrying branches.  Each stock is left with stemming stalks.
3-Pré-taillage :
Dès que les feuilles sont toutes tombées, selon la climatologie, le pré-taillage démarre. Cela permet de remettre des petits tronçons de sarments au sol pour entretenir le taux de la matière organique.
3
.- Fore pruning :
When all the leaves have fallen, depending on the climatology, fore pruning is commenced.  Thus, small pieces of vine shoots are left on the ground so as to maintain a good mix of organic matter in the soil.
4-Pourquoi la taille ?
La vigne étant une liane, on la taille pour maîtriser l'allongement et obtenir des fruits de qualité.
4.- The reason behind fore pruning :
The vine is a creeper and therefore must be cut in order to limit its lengthening and to provide good fruit.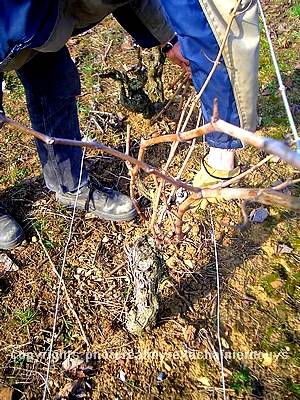 L'importance  de la taille :
La taille est à la base du travail du vigneron. Elle inaugure un nouveau cycle pour la plante. D'elle dépendra l'ensemble qualitatif de la récolte.
The importance of pruning :
Pruning is a basic task for the wine grower.  It opens up a new cycle for the plant, and the quality of the harvest is dependent on it.
Démarrage de la taille :
Nous avons démarré la taille mi-décembre 2005 et finirons fin mars 2006 avec une équipe de trois tailleurs (domaine de près de 25 ha).
Start up of the pruning :
Pruning was started in mid-December and will cease by the end of March.  As stated earlier, this work is done by a team of three men, for a surface of 25 hectares.   
« Taille tôt, taille tard, rien ne vaut la taille de mars ».
« Prune early, prune late, nothing beats March pruning »
Deux  avantages de la taille de mars :
. on retarde le débourrement des parcelles gélives.
. du fait du réchauffement du sol, l'activité racinaire reprend et la vigne pleure : toute contamination de champignons (maladies du bois cf. point 4) devient impossible par les plaies de taille car repoussée par le flux de sève.
Two advantages to pruning in March
The bud break in the still frozen parts of the vineyard is delayed;

Because the soil warms up in March, the roots commence their work, and the vine "cries": in the result, fungus contamination, through the scars left by the pruning process, is avoided by the mere flow of the sap (see item 4, below).
5- Brûlage des bois :
On brûle les bois de taille et ceps morts dans les brûlettes pour assainir les parcelles.
En les brûlant, on empêche la dissémination et la contamination de certains champignons qui s'attaquent au bois comme l'Esca qui fait mourir le cep d'apoplexie en lui bouchant les vaisseaux.
5 .- The burning of  the « woods »
The fallen stems resulting from the pruning are burned off in "Brulettes".  This  prevents any dissemination of certain funguses, such as Esca, that attack the vine stock, resulting in death by apoplexy, i.e., the blockage of the sap vessels.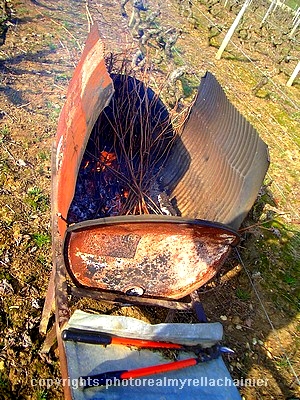 Autres références :